Our COVID19 Policy → Find Out More
Existing patients in need of assistance, please call us.
New patients can call or take advantage of our $1000 off limited time special! Learn More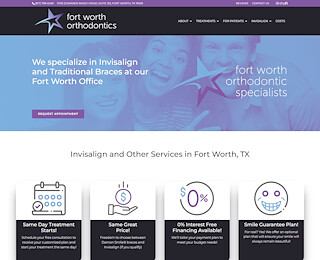 If you are interested in Invisalign in Fort Worth, TX, you have come to the right place. Fort Worth Orthodontic Specialists is the #1 choice for all orthodontic services in DFW. We have the biggest variety of options for repositioning misaligned teeth, and of those options, Invisalign is the best choice by far! Please, take a moment to consider why Invisalign has grown so popular in Fort Worth. But first, feel free to contact a Fort Worth Invisalign specialist for a consultation to see if you are a good candidate for Invisalign. Get ahold of us by choosing one of the following two options:
What are the Benefits of Invisalign?
There are many benefits that orthodontic patients experience with Invisalign. Let's take a look at a few of the most prominent benefits:
Invisalign is Designed to Foster Unrivaled Comfort and Convenience
While traditional metal braces are still the most popular orthodontic solution in Fort Worth, metal braces are not exactly known for being very comfortable or flexible. Invisalign aligners are naturally more comfortable and convenient because, unlike traditional braces, Invisalign aligners can be removed at any time. This means that you can take your Invisalign trays out when eating and brushing.
Invisalign is Cleaner than Traditional Braces
Invisalign dentists in Fort Worth will tell you that, because you can remove and replace your Invisalign trays as needed, Invisalign is naturally much more hygienical than traditional braces. You can take out your Invisalign aligners and wash them daily. Plus, by removing them while you are eating, you don't have to worry about getting food stuck in-between the wires, as you do with traditional braces.
Eat What You Want
When a person has traditional braces, they must avoid certain foods that can damage the braces. With Invisalign, you can remove the trays every time you eat, so you can eat what you want, brush your teeth, and put the trays back in place.
Invisalign Can Boost Your Confidence
One of the biggest problems with teens and traditional braces is that teens tend to become very self-conscious about the way they look. They dread the 'mouth full of metal' appearance, and their self-esteem can take a major hit. Invisalign aligners are nearly transparent, meaning that you almost can't tell they are there unless you are looking very closely.
Invisalign is Affordable
Many of our orthodontic patients are shocked to learn that they can have Invisalign for roughly the same price as traditional braces, sometimes even cheaper. That means a better price, a better product, and a better result. Indeed, the Invisalign cost is affordable. It almost seems almost too good to be true, but it isn't. Invisalign has worked for countless others, and it can work for you too! Contact Fort Worth Orthodontic Specialists today to receive the best Invisalign deals in Fort Worth. Contact us to learn more about our practice or to inquire about Invisalign in Fort Worth, TX.
Invisalign Fort Worth Tx
Fort Worth Orthodontic Specialists
8178061498
5700 Edwards Ranch Rd
Fort Worth
TX
76109
View Larger Map
We welcome your comments!
Schedule Your Free Consultation
We understand that life can be hectic and our busy schedules can often get in the way. Take advantage of our FREE virtual consultation option and earn a $1000 discount off your treatment!