Our COVID19 Policy → Find Out More
Existing patients in need of assistance, please call us.
New patients can call or take advantage of our $1000 off limited time special! Learn More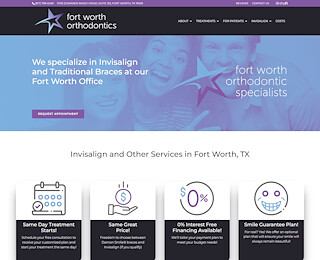 If you are interested in Invisalign in Fort Worth for yourself or a minor, then we recommend that you look for an Invisalign dentist in Fort Worth? What's the difference between a general dentist and an Invisalign dentist? After all, any dental practitioner can offer Invisalign, right? The difference between an Invisalign dentist and a general dentist comes down to training. Yes, any dental clinic or dental practitioner can offer Invisalign, but a trained Invisalign dentist is your best choice.
An Invisalign dentist is an orthodontic dentist. That's what we are at Fort Worth Orthodontic Specialists - we are orthodontists. An orthodontist has the same training as a general dentist, but we also have additional training and schooling in orthodontics. Since Invisalign is a form of orthodontics, it only makes sense to receive Invisalign treatment from an orthodontist.
If you would like to schedule an initial consultation with an experienced Invisalign dentist in Fort Worth, please contact Fort Worth Orthodontic Specialists today:
Call us: 817-806-1498
Email us: fworthodontics@gmail.com
5 Questions to Ask Your Invisalign Dentist in Fort Worth
If you are interested in Invisalign, Fort Worth Orthodontic Specialists is the safe bet. If you want to keep looking for an Invisalign dentist in Fort Worth, use the following five questions to find a good one:
1. What Invisalign Reviews Can You Provide?
Thanks to the Internet, you can find out everything you need to know about a dentist quickly. Use technology to your advantage, and be sure to look for reviews online. If you can't find any, ask the dentist to furnish some.
2. Can You Show Me Invisalign Before and After Pictures?
If your dentist claims that he/she is experienced with Invisalign, then they shouldn't have a problem proving it to you. Ask to see proof.
3. How Much Does Invisalign Cost
The best Fort Worth Invisalign dentists are able to offer Invisalign to their patients at a price that's on par with the price of traditional braces. You don't want to overpay for Invisalign. Be sure to find out how much they are charging for Invisalign dentistry. Fort Worth Orthodontic Specialists still has the best Invisalign deals in Ft. Worth.
4. How Long Does Invisalign Take
If a DSW Invisalign dentist tells you that Invisalign works in six months to a year, take it is a sign that you need to keep looking for another Invisalign dentist in Fort Worth. The fact is; Invisalign takes 18 months to work for 99% of all people. Only people with minor misalignments can be finished with Invisalign in under a year's time.
5. Do I Need to Wear My Invisalign Retainer All the Time?
The answer to this question is yes. If you talk to a dentist who tries to entice you with Invisalign by stating that you can take out your aligner trays, this is misleading. The ONLY time you should ever remove your Invisalign trays is for eating, brushing, or cleaning the trays. Then, you need to pop them back in right away.
Invisalign Dentist Fort Worth
Fort Worth Orthodontic Specialists
8178061498
5700 Edwards Ranch Rd
Fort Worth
TX
76109
View Larger Map
We welcome your comments!
Schedule Your Free Consultation
We understand that life can be hectic and our busy schedules can often get in the way. Take advantage of our FREE virtual consultation option and earn a $1000 discount off your treatment!