Our COVID19 Policy → Find Out More
Existing patients in need of assistance, please call us.
New patients can call or take advantage of our $1000 off limited time special! Learn More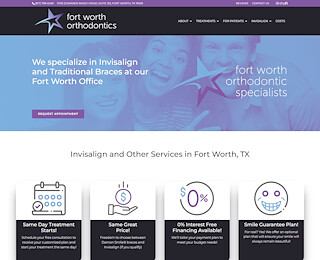 Fort Worth Orthodontic Specialists would like to give you some tips that can help you choose the best orthodontist in Fort Worth. To be clear, there is no such thing as 'the best orthodontist.' It's like the saying goes, "Beauty is in the eye of the beholder." The best orthodontist to you may not be the best orthodontist to the next person. Therefore, rather than searching for the best orthodontist in Fort Worth, try instead searching for the best orthodontist for you.
For example, the best orthodontist for one person might be the practitioner who offers the lowest prices. The best orthodontist for another person might be the orthodontist who provides the best quality of services. At Fort Worth Orthodontic Specialists, we provide affordable orthodontics, quality services, and we use all of the best tools and technology in the industry.
If you would like to speak with an experienced orthodontist or set up your appointment for a consultation, contact Fort Worth Orthodontic Specialists today.
5 Tips to Choose the Best Orthodontist in Fort Worth
When considering one of the many Fort Worth orthodontists, take the following five tips into consideration to find a practitioner who is a good match for you:
1. Choose a University Trained Orthodontist
Whether you realize it or not, any dental practitioner can offer orthodontic treatment without training beyond basic dental school. However, a university-trained orthodontist will be a member of the American Association of Orthodontists. A university-trained orthodontist is a dentist who has been schooled and trained specifically in orthodontics.
2. Choose a Fort Worth Orthodontist Clinic that is Clean and Hygienical
At Fort Worth Orthodontic Specialists, we keep our facilities spic and span at all times. This includes the waiting area and the dentist's office. Health and hygiene are extremely important in any medical clinic, dental or otherwise. If you walk in and notice that some of the magazines and toys in the waiting room are strewn about, and there is no one in the waiting room, that might be a good sign to look for a different orthodontist!
3. Choose an Orthodontist that Uses the Best Equipment and Technology
The best orthodontists have all of the modern technology that you would expect from a top practitioner. At Fort Worth Orthodontic Specialists, our clinic is state-of-the-art, featuring all of the best machinery, equipment, and technology so that our team can deliver the best possible care to all of our patients.
4. Choose a Doctor Who is Trained in All Aspects of Orthodontics
For example, you might opt for Invisalign aligners over traditional bracket and wire metal braces. If you are considering Invisalign, then you would want to not only choose a university-trained orthodontist, but you would also want to choose an orthodontist who is experienced in treating with Invisalign.
5. Choose an Orthodontist Who Makes You Feel Good
At the end of the day, you can analyze all of the data and information (as you should), but you will ultimately have to choose an orthodontist based on what your gut tells you. It never hurts to visit a clinic in person or schedule a first-time consultation visit. If you don't like the way you feel while in the clinic, then you have the option to try somewhere else.
Best Orthodontist In Fort Worth
Fort Worth Orthodontic Specialists
8178061498
5700 Edwards Ranch Rd
Fort Worth
TX
76109
View Larger Map
We welcome your comments!
Schedule Your Free Consultation
We understand that life can be hectic and our busy schedules can often get in the way. Take advantage of our FREE virtual consultation option and earn a $1000 discount off your treatment!