Our COVID19 Policy → Find Out More
Existing patients in need of assistance, please call us.
New patients can call or take advantage of our $1000 off limited time special! Learn More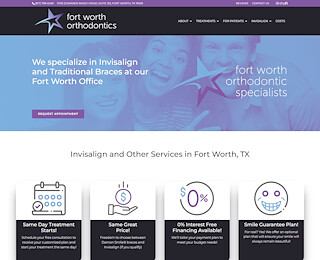 Do you need braces in Fort Worth? At Fort Worth Orthodontic Specialists, we provide braces for adults and minors. Further, we make our braces affordable to everyone by offering some of the best orthodontic dentistry and the lowest prices in the Lone Star State. We make orthodontics affordable by offering flexible payment plans and low prices. This way, everyone who needs braces can afford them.
In addition to unbeatable prices, Fort Worth Orthodontic Specialists offers a variety of teeth straightening solutions, including Invisalign. Invisalign can be obtained for roughly the same cost as traditional metal braces. To learn more about our orthodontic practice or to schedule your first appointment for an assessment for braces, contact Fort Worth Orthodontic Specialists today:
Can You Get Braces for Free?
In most instances, you cannot get braces for free. There are some neighborhood clinics in the DFW Metroplex that provide low-cost or free orthodontics, but these services are usually reserved for the homeless and financially destitute. The best option for most people who are looking for affordable braces in Fort Worth is to set up a monthly payment plan that they can afford.
If you qualify for Medicaid or the Children's Health Insurance Program, then the state might pay for your children to receive braces. We encourage you to contact the state of Texas to learn more about these programs and to see if you qualify for them.
What is the Cheapest Price for Braces?
Different orthodontists in Fort Worth charge different prices for their services. The average braces cost in Fort Worth is between $3k - $6k. However, the price can be higher than that, depending on the circumstances. To avoid paying the rather expensive cost of braces, many people will travel to Mexico or Costa Rica to save money. The downside of dental tourism is that you have no protection or quality assurance, and often, patients who receive treatment overseas come to us for us to fix the problems that resulted from their overseas treatment.
What to Do if You Can't Afford Braces?
If you find out that braces seem out of bounds for your budget right now, don't lose heart or give up. A healthy, straight smile is a vital part of good health. Here are some channels that you can pursue to receive braces for free or at a price you can afford:
Visit an orthodontic school clinic
Ask for a payment plan
Use credit options
Look for local dental assistance programs
Does Insurance Cover Braces?
If you have dental insurance, your provider might pay some or all of your insurance costs. Employer-sponsored dental insurance often covers the cost of braces as well. This depends on the plan and level of coverage. Of course, not all dental insurance plans cover orthodontic treatment, so we recommend that you contact your provider or employer and find out what is covered under your policy.
Affordable Braces Fort Worth
Fort Worth Orthodontic Specialists
8178061498
5700 Edwards Ranch Rd
Fort Worth
TX
76109
View Larger Map
We welcome your comments!
Schedule Your Free Consultation
We understand that life can be hectic and our busy schedules can often get in the way. Take advantage of our FREE virtual consultation option and earn a $1000 discount off your treatment!