Our COVID19 Policy → Find Out More
Existing patients in need of assistance, please call us.
New patients can call or take advantage of our $1000 off limited time special! Learn More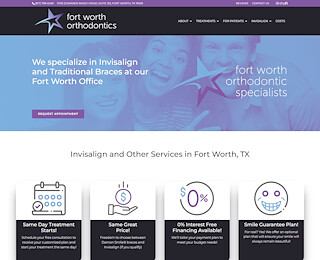 Anyone in need of orthodontic treatment today is fortunate to live in a period where they have access to many different treatment options. For example, there are traditional braces, clear aligners, and Damon braces in Fort Worth, TX. Damon Braces are famous for being fast, easy, and discreet. How so?
Traditional braces can be uncomfortable and outright painful for the people who wear them. Traditional braces cause a lot of pressure on the teeth and gums. Damon braces work differently. Damon braces gently guide the teeth back into their proper position by utilizing a very limited amount of force. Therefore, Damon braces are known for being more comfortable and less painful than traditional braces.
If you would like to learn more about Damon braces in Fort Worth, contact Fort Worth Orthodontic Specialists today, and we'll schedule you for a free consultation where an experienced orthodontist will perform an assessment and advise you on Damon braces as well as your other orthodontic options. Feel free to send us an email or call us directly:
Call us: 817-806-1498
Email us: fworthodontics@gmail.com
5 Reasons Why Damon Braces are Better than Traditional Braces
If Damon braces aren't right for you, don't worry. We still have a number of effective orthodontic treatment options. Here are the top five reasons why Damon braces are the best:
1. Patients Get Faster Results with Damon Braces
Unlike with traditional braces, there are no metal or plastic ties on Damon braces, so they don't need to be tightened. Damon braces utilize a unique self-ligating system that features a specialized clip with a door that replaces the elastics of traditional braces. In other words, they tighten on their own, naturally, as the teeth begin to align properly.
2. Patients Have Fewer Appointments
Our Fort Worth Damon braces clients enjoy that the lightweight shape-memory wires of Damon braces allow the teeth freedom to move faster without the need for as many adjustments.
3. Damon Braces are Widely Considered to be More Comfortable than Traditional Braces
Damon braces are a favorite in Fort Worth because, unlike traditional braces, Damon braces don't require the extraction of teeth or rapid palatal expanders. Damon braces realign and enhance facial appearances without the pain because the slide mechanism facilitates more comfortable repositioning of the teeth.
4. Damon Braces Facilitate Better Oral Health
A healthy, clean palate is key to internal health, and Damon braces are easier to clean because it's more difficult for food to get stuck in them.
5. Damon Braces Promote Facial Balance
Patients have been shown to have improved facial profiles, wider smiles, and decreased dark triangles that often appear at the corners of the mouth.
Schedule Your Consultation at Fort Worth Orthodontic Specialists
If you are interested in Damon braces in Fort Worth, schedule your appointment today. We are here to assist. An experienced orthodontist will assess your teeth and advise you on Damon braces and all of your other options. If you wish to proceed, Fort Worth Orthodontic Specialists has the best deals on braces.
Damon braces fort worth
Fort Worth Orthodontic Specialists
8178061498
5700 Edwards Ranch Rd
Fort Worth
TX
76109
View Larger Map
We welcome your comments!
Schedule Your Free Consultation
We understand that life can be hectic and our busy schedules can often get in the way. Take advantage of our FREE virtual consultation option and earn a $1000 discount off your treatment!